Experienced and Successful Piano and Theory of Music Teacher for pupils from 4 years to adult.
I also offer Tuition in English, Reading or Mathematics to pupils from Y1 to Y6.
COVID19 UPDATE: If I have any symptoms of Covid19, or a positive test, or know I have been in close contact with someone who is infected, I will obey the 14 day quarantine rule, and there will be no lessons until my quarantine period has ended. Pupils must not attend lessons if they have any symptoms of Covid19, or a positive test, or know they have been in close contact with someone who is infected, and must obey the 14 day quarantine rule. Teacher, pupils and parents must wear cloth face coverings. All hands must be sanitised before and after lessons. If you use the lavatory, obey the hygiene rules on the sheet. The piano, stool etc will be cleaned between pupils. A sheet detailing Covid19 precautions will be issued to all pupils.
Go to top
I am an experienced and flexible piano teacher of pupils of all abilities from age 4 years to adult. It is always wonderful to commence this music journey with a beginner of any age. Pupils who have previously had lessons, either recently, or many years ago, are also very welcome.
Lessons are tailored to pupils' individual needs, skills and enthusiasms. My pupils may choose ABRSM piano exams, or graded learning 'for fun' without examination. I am a Professional Member of EPTA (the European Piano Teachers' Association) and hold a PGCE teaching certificate.
All pupils must have access to a piano for daily practice. Digital pianos do not need tuning, but, if you have a traditional piano please ensure it is tuned regularly.
A Pupils' Concert is held annually, to which pupils invite their parents, siblings, grandparents, spouses etc..
Go to top
I teach ABRSM Grade V music theory. This examination must be passed before the pupils can be entered for piano examinations at Grade VI and above. My tuition is well organised and effective.
Go to top
Tuition in English, Reading or Mathematics for Y1 to Y6.
I am a former Primary School teacher, and offer effective tuition for children who need extra help and support in any, or all, of these subjects.
In consultation with parents, the lessons are tailored to the needs of each individual.
Go to top
Piano: 25 minute lesson. For child beginners, and up to the end of Grade III £15.90
Piano: 50 minute lesson. For all adult pupils, and children at Grade IV and above. £31.80
Theory of Music: 25 minute lesson £15.90
Tuition in English, Reading or Mathematics: 25 minute lesson £15.90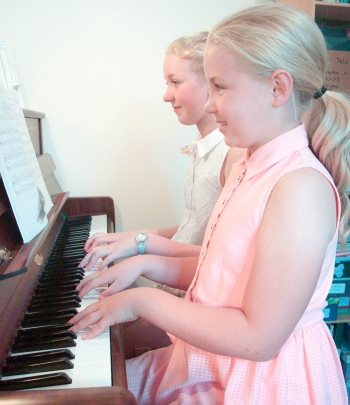 Lesson fees must be paid in cash (only) at every lesson. A receipt is given.

For piano and theory pupils a set of music books is also required. I supply these for £35 and they will last at least a couple of terms, and probably a year.
There is a trial period of two lessons, during which the pupil can terminate the contract without giving notice. From the third lesson, six weeks' notice of cancellation (or payment in lieu) must be given.
Payment for lessons missed through sickness, family holiday etc. If you very occasionally need to change a lesson because, for example, the pupil has a hospital appointment, I will do my best to find a mutually convenient time. If a pupil has an extended absence (three lessons or more) due to serious illness or because of Covid19 quarantine rules, the fourth and subsequent lessons are charged at half the normal fee. All missed lessons must be paid for, even if the absence is notified in advance.
Lesson fees increase on 1st September annually.
Go to top
11 South Park View, Gerrards Cross SL9 8HN
01753 891 858
violaverify@gmail.com
Lessons are held at my home in Gerrards Cross, which is a few minutes' walk from Gerrards Cross Railway Station. There is a place to leave bicycles, and car parking space on my drive.
I teach on Wednesdays and Thursdays. My teaching list is usually very full, but if you email me I will let you know if I currently have any vacant spaces.(Parents or Guardians must contact me if the prospective pupil is under 18 years old) Lessons in term time only - no lessons in school holidays. A list of dates for the current academic year will be provided.
All pupils aged under 11 years must be accompanied during lessons by a parent (or other appropriate adult). I expect parents to assist younger children to practise productively at home. If you need to bring other children to wait during the lesson I have a box of toys, colouring pencils etc, and a table that another child could sit at to do homework.
DBS certificate and Public Liability Insurance are held. I am registered with the ICO.
Go to top